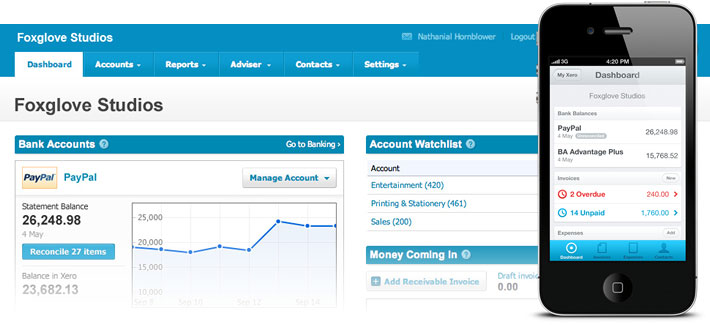 Xero – Beautiful Accounting Software
DWA is a proud partner of Xero – a new powerful online accounting system that enables businesses to collaborate with their accountants and bookkeepers in real time.
What is Xero?
Xero is an online accounting system that gives you access to your financial information on your PC or Mac in the office, at home or on popular mobile devices – anywhere, anytime.
Xero includes a full accrual accounting system with a cashbook, automated daily bank feeds, invoicing, debtors, creditors, VAT and reporting, so you can keep abreast of your financial information in real-time.
At its core, Xero is an easy-to-use but powerful online accounting system for SMEs and their advisors.
SIMPLE. SMART. SECURE.
The privacy and security of your data is taken care of and is stored on Xero's secure servers, where it's backed up regularly. This means even if your computer is lost or stolen your data is safe, and furthermore, there is no installation or upgrades necessary.
If you are not currently using Xero and would like to, we can assist in the transfer from your old system and provide you with support and training that you require. At DWA we strive to provide all our clients with a conception to completion service with everything in between.
We have four packages to offer your business:
For further details on our Xero packages please click here
If you would like to speak to one of our Xero advisors for further information or to arrange a free demonstration, please contact the office on any of the above numbers, or alternatively use the form below to email us and we will get back to you:
Xero Online Accounting Software
---